We supply adjustable hand reamers in sizes 7.60 – 60 mm.
They are characterised by the irregular geometry of blade placement to ensure that an exactly circular hole is reamed. 
The reamers are available individually or in two types of sets within the following ranges: 
Small set - 13.75 – 24 mm
Large set – 10.25 – 33 mm
Upon order, we can also manufacture extended length reamers with guide sleeves.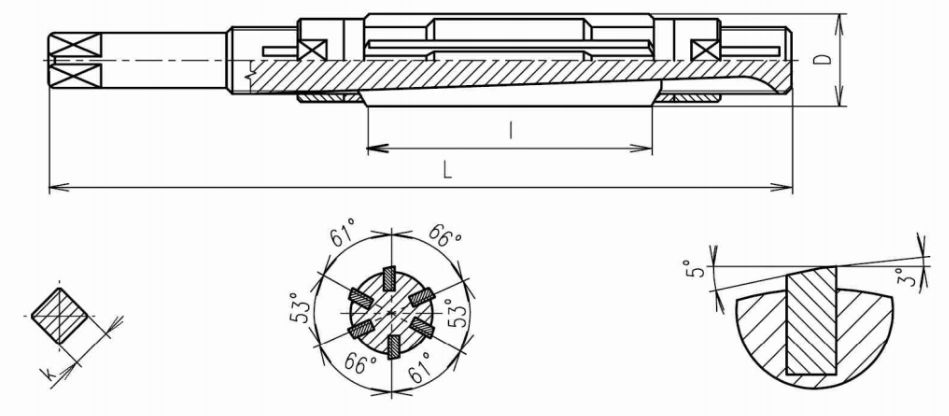 Adjustable reamers are used for finishing machine cutting operations of cylindrical holes. The reamed holes have a precise diameter, geometric shape and smooth surface. The reamer dimension is continuously variable within the given range and the adjustable dimension is measured on the pair of opposite knives. The guide sleeves ensure correct placement of a hand reamer in the hole. The geometry of normally supplied reamer knives is suitable for the machining of grey cast iron and bronze.
| Typ | Size [mm] | Size [inch] | I [mm] | L [mm] | k [mm] | D [mm] | W [kg] |
| --- | --- | --- | --- | --- | --- | --- | --- |
| T1 | 7,60 - 8,50 | 19/64 - 21/64 | 26 | 90 | 4 | 5 | 0,03 |
| T2 | 8,40 - 9,40 | 21/64 - 3/8 | 30 | 95 | 4 | 5 | 0,03 |
| T3 | 9,30 -10,40 | 3/8 - 13/32 | 33 | 105 | 4,5 | 5,6 | 0,04 |
| T4 | 10,25 - 11,45 | 13/32 - 29/64 | 36 | 110 | 5 | 6,3 | 0,05 |
| T5 | 11,30 - 12,60 | 29/64 - 1/2 | 41 | 120 | 5,6 | 7,1 | 0,07 |
| T6 | 12,50 - 14,00 | 1/2 - 35/64 | 46 | 135 | 6,3 | 8 | 0,10 |
| T7 | 13,75 - 15,25 | 35/64 - 19/32 | 50 | 145 | 7,1 | 9 | 0,15 |
| T8 | 15,00 - 16,70 | 19/32 - 31/32 | 54 | 155 | 8 | 10 | 0,17 |
| T9 | 16,50 - 18,40 | 21/32 - 23/32 | 59 | 170 | 9 | 11,2 | 0,23 |
| T10 | 18,25 - 20,25 | 23/32 - 25/32 | 64 | 185 | 10 | 12,5 | 0,31 |
| T11 | 19,75 - 22,00 | 25/32 - 37/32 | 71 | 200 | 11,2 | 14 | 0,42 |
| T12 | 21,50 - 24,00 | 27/32 - 15/16 | 76 | 215 | 11,2 | 14 | 0,51 |
| T13 | 23,75 - 26,60 | 15/16 - 3/64 | 84 | 240 | 12,5 | 16 | 0,71 |
| T14 | 26,50 - 29,75 | 1  3/64 - 1  11/64 | 93 | 265 | 15 | 18 | 0,97 |
| T15 | 29,50 - 33,00 | 1  11/64 - 1  9/32 | 105 | 295 | 16 | 20 | 1,32 |
| T16 | 32,50 - 36,50 | 1  9,32 - 1  7/16 | 116 | 320 | 18 | 22,4 | 1,89 |
| T17 | 36,00 - 40,40 | 1  7/16 - 1  19/32 | 127 | 355 | 20 | 25 | 2,39 |
| T18 | 40,00 - 45,00 | 1  19/32 - 1  3/4 | 143 | 390 | 22,4 | 28 | 3,96 |
| T19 | 44,50 - 50,00 | 1  3/4 - 1  31/32 | 161 | 435 | 25 | 31,5 | 4,76 |
| T20 | 49,50 - 55,00 | 1  31/32 - 2  5/32 | 161 | 435 | 28 | 33,5 | 5,64 |
| T21 | 54,50 - 60,00 | 2  5/32 - 2  11/32 | 161 | 435 | 31,5 | 40 | 6,75 |