Tangential chasers are used to cutting of threads with tangential thread cutting heads.
It is made from high-speed steel, set contains 4 peaces of chasers. Production according to delivered sample or drawing.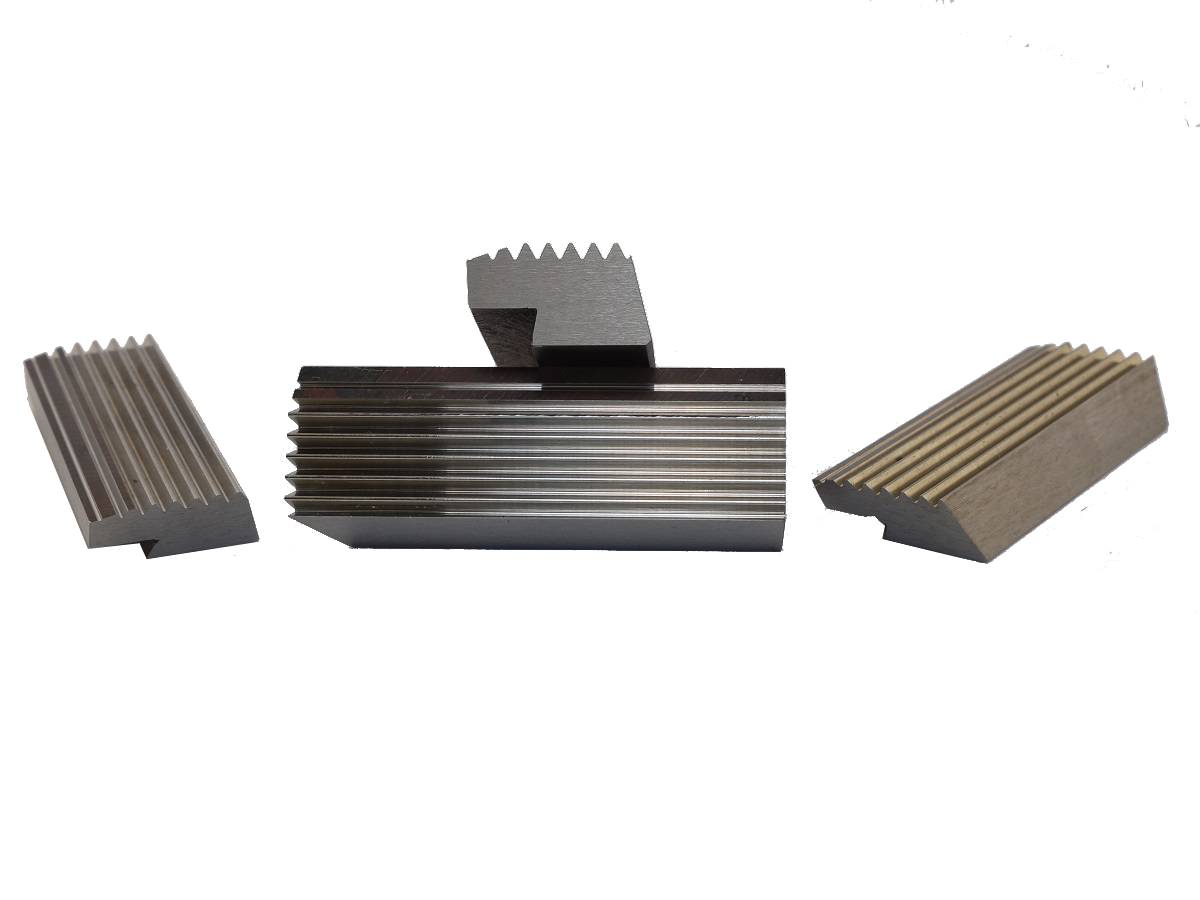 Cutting of threads is made in thread cutting machines or in lathes. Thread cutting heads have moveable chasers, which cuts the thread continuously in product material to the requested diameter of the thread. After finish of the thread head is opened and product is given out. 
Tangential chasers are made as multi profile and allows to cut the thread in one step to full depth. There is accurent thread profile on top side of the chasers. Sharpen is made by grinding of front part. Input angle part is grinded in angle of set up. 
Commonly delivered threads:
Metrical (M)
Pipe (G)
Trapezoid (Tr)
Unified (UNF, UNC)
We have tangential dies in stock for machines:
TANGENTIAL DIES IN STOCK ARE AVAILABLE IN 3 WORKING DAYS. 
WE ARE ABLE TO PRODUCE TANGENTIAL DIES THAT AREN'T IN THIS LIST ACCORDING TO SENT SAMPLE OR DRAWING IN 3-6 WORKING WEEKS.
FOR REQUEST OF chasers PLEASE CONTACT US VIA INQUIRY FORM
---
| | | |
| --- | --- | --- |
| DIES FOR TANGENTIAL CHASERS | Q. No. | Availability |
| TN G1/2"-3/4"  MZ-2 | 646923 | in stock |
| TN G 1"-11 Z52 (R-42-321-1) | 630423 | in stock |
| TN G1 1/2"-2"  MZ-2 | 649523 | in stock |
| TN M1,75-M | 719023 | in stock |
| TN P=1,25-M | 701723 | in stock |
| TN P=1,5-M levé "SIGNUM" | 712123 | in stock |
| TN P=1,75-M GA52 | 677323 | in stock |
| TN P=2-M WAGNER | 632323 | in stock |
| TN P=2-M REMS | 673223 | in stock |
| TN P=2-M  TZ080 | 659623 | in stock |
| TN P=2-M "WAGNER" W80 | 648523 | in stock |
| TN P=2-M levý "REMS" | 696123 | in stock |
| TN P=2,309-G-1/11" | 730321 | in stock |
| TN P=2,309(1/11")UNC GA52 | 677923 | in stock |
| TN P=2,309(1/11")UNC GA52 | 726423 | in stock |
| TN P=2,5-M WAGNER Z52 | 639323 | in stock |
| TN P=2,5-M WAGNER   | 632423 | in stock |
| TN P=2,5-M REMS | 648023 | in stock |
| TN P=2,5-M levá | 656530 | in stock |
| TN P=2,5-M  TZ080 | 659723 | in stock |
| TN P=2,54(1/10") UNC GA52  | 678023 | in stock |
| TN P=3-M WAGNER | 636423 | in stock |
| TN P=3-TR LANDIS | 628123 | in stock |
| TN P=3,5-M WAGNER Z52 | 636523 | in stock |
| TN P=3,5-M dl.náběh WAGNER | 726123 | in stock |
| TN P=3,5-M  LANDIS | 665823 | in stock |
| TN P=5-TR | 690723 | in stock |
| TN P=6-TR | 690623 | in stock |
| | | |
| --- | --- | --- |
| CIRCULAR CHASERS | Q. No. | Availability |
| KN G3/8"-19/12 | 721123 | in stock |
| KN M-0,75/15 | 726823 | in stock |
| KN M-1/15 | 733723 | in stock |
| KN M-1,25/1 | 690923 | in stock |
| KN M-1,5/14 | 725023 | in stock |
| KN P=0,75-M  D45/13 | 620223 | in stock |